We elaborate a wide range of marzipan products in our factory. But today, we want to talk about those marzipan sweets also made with pine nuts which are considered as an authentic luxury for any palate.
This dried fruit comes from the pine tree and is located within leafy forests. This dry fruit has a high percentage of calories which makes it a super healthy food with nutritious properties very beneficial to our body. This ingredient also has an expensive price within the market because of the droughts. This fact makes the pine nut´s harvests very small, so prices increases.
So, why not include some pine nuts in our sweet recipes, as it is an energetic and healthy ingredient for our bodies?
The main marzipan products with pine nuts we currently make are: "Panellets", pine nut teacakes or also known as "Empiñonadas" and pine nut cakes.
However, which is the difference between all these different marzipan desserts with pine nuts?
The so-called Panellets are typical from Cataluña, although there are so many other Spanish cities where this is a traditional dessert too, like Aragón, Valencia, Baleares and Andorra.
Halloween is the time for panellets to be eaten! However, we currently can find them any time in any bakery. The classic panellet is made with natural ingredients such as the best national marcona almond, white sugar and high quality national pine nuts. It is also covered with a thin layer of egg white.
Another type of artisan dessert made with marzipan and pine nuts is the named "Empiñonadas" or pine nuts teacakes ideal for any moment of the day. It is considered as a great delicacy very similar to panellets, but there is one important difference between them: This dried fuit teacakes are made with pure marzipan paste.
They are very popular in Christmas time even though they are consumed for the whole year nowadays.
And finally, we can highlight the pine nut cakes. This is a sponge cake filled with egg yolk and candied custard with a intense cinnamon aroma, covered with a marzipan thin layer, icing sugar and some toasted pine nuts on the top.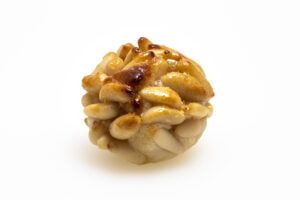 Would you dare to try these marzipan desserts with pine nuts?
Treat yourself these days and try them! Contact us! We will be very happy to assist you!
Conversely, if you want to make them at home, you can make use of our pine nuts teacakes´ recipe as follows:
Delicious and quick recipe for marzipan with pine nuts
INGREDIENTS:
– 200 grams of Marcona almond
– 200 grams of white sugar
– 1 egg
– 1 cup untoasted pine nuts
Icing sugar for dusting
INSTRUCTIONS:
In order to make the marzipan paste, we beat the almonds and sugar in a small bowl with an electric mixer until obtaining smooth dough.
After that, leave the marzipan paste in the fridge for two hours and pre- heat the oven to 200ºC. Once the marzipan paste is cold enough, shape it into little balls by hands. Put them in a tray to bake them later.
Sprinkle the top of the cake with the untoasted pine nuts and bake for about 6 minutes. Let it cool down completely and dust it with icing sugar and serve.
Enjoy!